Since it's Christmas time most of my posts now will be related to Christmas gift ideas and recipes. I'm sure these are the topics that most people are interested to read. And I am also one of them.
Today let me share another recipe that i stumble while surfing the net. You can make this for your family to share or it can also be given as Christmas gift to your friends and loved ones.
Here's the recipe of Peanut Butter and Banana Cupcakes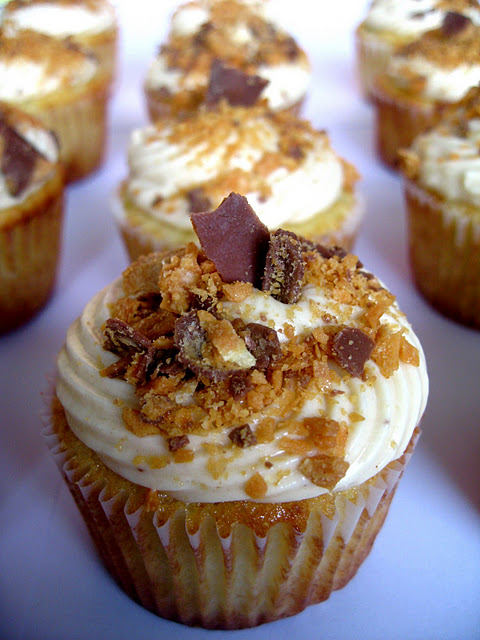 Banana Cakes:
1 ½ cup plus 2 tablespoons flour
2 teaspoons baking powder
¼ teaspoon salt
1 stick (½ cup) butter, softened
1 ½ cup plus 2 tablespoons sugar
4 eggs
1 cup mashed banana
2/3 cup buttermilk*
Peanut Butter Cream Cheese Frosting:
8 oz cream cheese
4 tablespoons butter, softened
½ cup creamy peanut butter
3 cups powdered sugar
¼ cup heavy cream
8 fun size butterfingers
Directions:
1. Preheat oven to 350 degrees.
2. Sift together flour, baking powder and salt. Set aside.
3. In a separate bowl, cream butter and sugar until light and fluffy.
4. Add one egg at a time and then add mashed banana.
5. Alternate adding flour and buttermilk until everything is combined. Don't over mix.
6. Fill cupcake liners 2/3 full and bake for 15-20 minutes or until a toothpick comes out clean.
7. Frosting: Beat cream cheese and butter until light. Add peanut butter and let mix for 2 minutes. Alternate adding powdered sugar and heavy cream. (Only add as much powdered sugar as you want, some like it sweeter than others.)
8. Pipe onto cooled cupcakes.
9. Use crushed butterfingers to top.
Thanks to www.yourcupofcake.com