Our long vacation is over and now i'm back to work again and back to blogging as well. And to start with i would like to post this award from Lourdesmia. Thanks Mommy Rubs for sharing this award to me. 🙂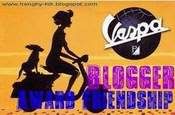 The rules are so easy:
1. Place the logo / banner on your blog.
2. Add a link to the blog who gave the award.
3. Nominate at least 7 other blogs.
4. Add links to the blogs that you have nominated.
5. Let them know by leaving a message (shout) on their blogs.
Now, I am passing this award to the following bloggers: