"What's the fastest car mommy? " my son asked this morning while we're driving on our way to office. I really don't know the answer, but i remember my boss used to tell stories about Formula 1 car race and he mentioned about Ferrari cars so i just replied that Ferrari is the fastest car. Oh well, speaking of my boss he is actually a die hard fan of Formula 1, he even went to Singapore last year just to watch the Formula One  car race. I remember when he came back from his trip, he cheerfully narrate to us all his experiences at the said event, from Ferrri cars to Ferrari parts , to race tracks and pit stops.
Anyway out of curiosity, i searched the net to find out what's really the fastest car world. Based on www.thesupercars.org the top ten fastest car in the world for 2008-2009 are the following:
1.SSC Ultimate Aero: 257 mph+, 0-60 in 2.7 secs. Twin-Turbo V8 Engine with 1183 hp, base price is $654,400. Tested in March 2007 by Guinness world records, The SSC Ultimate Aero takes the lead as the fastest car in the world beating Bugatti Veyron.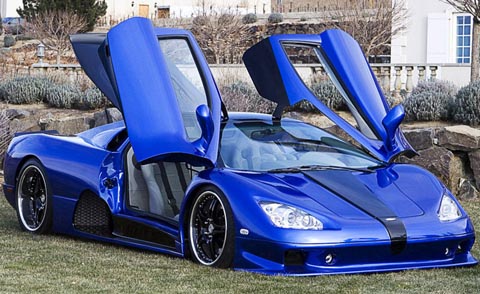 2.Bugatti Veyron: 253 mph+, 0-60 in 2.5 secs. Aluminum, Narrow Angle W16 Engine with 1001 hp, base price is $1,444,000. With the highest price tag, no wonder this is rank #2.
3. Koenigsegg CCX: 250 mph+, 0-60 in 3.2 secs. 90 Degree V8 Engine 806 hp, base price is $695,000. Made in Sweden, it is expected to take #1 spot in the future.
4.Saleen S7 Twin-Turbo: 248 mph+, 0-60 in 3.2 secs. Twin Turbo All Aluminum V8 Engine with 750 hp, base price is $555,000. Smooth and bad-ášš, will make you want to show it off non-stop.
5.McLaren F1: 240 mph+, 0-60 in 3.2 secs. BMW S70/2 60 Degree V12 Engine with 627 hp, base price is $970,000. Check out the doors, they looks like bat wings, maybe Batman need to order one and paints it black
6.Ferrari Enzo: 217 mph+, 0-60 in 3.4 secs. F140 Aluminum V12 Engine with 660 hp, base price is $670,000. Only 399 ever produced, the price goes up every time someone crashes.
7.Jaguar XJ220: 217 mph+, 0-60 in 4.0 secs. Twin Turbo V6 Engine with 542 hp, base price is $345,000. Made in 1992, this car still got what it takes to make the list.
8.Pagani Zonda F: 215 mph+, 0-60 in 3.5 secs. Mercedes Benz M180 V12 Engine with 650 hp, base price is $741,000. With a V12 motor, this baby can do much better.
9.Lamborghini Murcielago LP640: 213 mph+, 0-60 in 3.3 secs. V12 Engine with 640 hp, base price is $430,000. Nice piece of art, the design is very round and smooth.
10. Porsche Carrera GT: 209 mph+, 0-60 in 3.9 secs. Aluminum, 68 Degree, Water Cooled V10 Engine with 612 hp, base price is $440,000. The Porsche most expensive car made the list as #10.
That's it! Now i know what to answer if my son will ask me again.. ^_^